Eden Genet Garden in Wollo Sefer will be hosting Zema Mezekir on December 24, 2022, with a repertoire of live music, visual arts, and DJ performances. The event, which begins at 1 p.m. and lasts until late, also offers food and beverages from vendors. Tickets cost 300 birr and can be purchased using the Ahun app.
CITY FAIR
The Saro Maria Hotel will host City Fair, a bazaar on December 17–18, 2022, which will feature handmade Ethiopian goods created by Ethiopian designers, including clothing, pottery, woodwork, paintings, and home décor items. Brought to you by Syane Events, the event offers all Ethiopian artists a new opportunity without charging an entry fee.
KURU FEST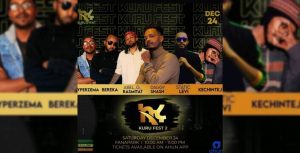 The second Kuru Fest will be held at Fana Park on December 24, 2022, by Kuru Events and Ekulinet Promotion. Taking place from 10:00 a.m. to 11:00 p.m., the event will feature various DJs and musicians performing both local and foreign music in various genres. Tickets are available for purchase on the Ahun app for 150 birr per person.