As Abel Engida and Nahom Tsegaye, who earned their bachelor's degrees in architecture and electrical engineering, respectively, plunged feet first into the workforce, they quickly came to the conclusion that they wanted to launch a start-up business because there was a significant void in the market and a great deal of untapped potential in it.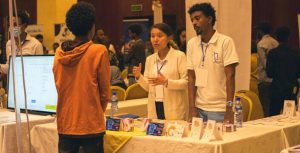 They believed that they would be able to achieve and grow more within their work, and they were aware that the reward would be greater if they were to be owners of their own company rather than get hired and work in a nine-to-five job. They chose to work for themselves because they believed that they would be able to achieve and grow more through their work.
The concept of their start-up, which was an application for reading audiobooks, was the most important feature they needed to concentrate on.
They had been considering taking this step for a considerable amount of time. After they realized that their concept could be successful and had discussed it with other people, they came to the conclusion that they should go ahead and launch it.
They persisted and continued with the launch despite the fact that it required a lot of time, devotion, and energy, numerous challenges, and a high risk of failure. However, because they recognized there was also a great probability of success, they were willing to take the risk.
"You are unable to predict how the market will react, and both the timing and the conditions must be favorable for it to be successful. In addition, there is the typical risk of monetary loss as well as tedious bureaucratic procedures, both of which have the potential to stall the process for two to three years. It is not as simple as it may initially appear," Nahom said.
A significant number of today's young people are heading in the same direction as Abel and Nahom.
Instead of focusing on getting hired for jobs that run from 9 to 5, the majority of young people are considering launching their own businesses.
As a result, the number of start-up companies in the nation's capital has been on the rise, and more people who are passionate about technology are attempting to develop concepts on how to solve common problems using technology-based approaches.
Eyob Workineh, one of the organizers of an expo named Addis Rupt, which was hosted for the second time on December 30 and 31, 2022, at the Interluxury Hotel, launched this expo with the intention of providing a venue at which start-ups in Addis Ababa could congregate and present their businesses.
More than fifty start-up companies participated in the event and displayed their concepts and enterprises at the expo. This gave them the opportunity to network with other entrepreneurs and gain knowledge to help them build their companies.
The expo also had a "start-up launch pad," which was a facet in which new businesses were given the opportunity to present and launch their latest designs, products, projects, or services.
The event also featured a series of seminars that focused on a wide variety of subjects and start-ups. These workshops covered themes such as investment and finance for start-ups, company development, design thinking, web design, branding and marketing, and an understanding of e-commerce.
Addis Rupt, according to Eyob, makes a big contribution to the start-up scene in Ethiopia because it provides a forum for start-up leaders to advertise their services and products, make connections with other start-up leaders, and acquire new knowledge and expertise.
Eyob remarked that as a result, "it raises awareness across society about start-ups and the wonderful problem-solving services and solutions they have."
The Ethiopian workforce and economy are struggling to find jobs for the majority of the young people who graduate each year as a result of the growing number of young people who complete their education, Eyob says.
As a result, these young people have chosen the path of self-employment and are starting their own endeavors and businesses as part of their professional lives.
Eyob believes the ability of young people to be more connected with one another and with the rest of the world through social platforms gives them a better opportunity to see and identify market gaps within our economy. These are the problems, he says, that young people jump onto and attempt to solve by launching their own start-up businesses.
Eyob said that "startups, by their very nature, are problem-solvers." He also said that "if given the necessary recognition and support, start-ups may become essential parts of our society and can be among the most important drivers of the economy."
He believes it is difficult, and in some cases even impossible, to start a business and successfully run it because the legal system does not have a good start-up directive or policy. This is the most significant challenge faced by newly established companies.
Awaqi is an online platform that works with youth to provide guidance and coaching for young entrepreneurs. Nathan Damtew, the founder of the technology and gaming company BeBlocky, which is an app that focuses on teaching kids and beginners programming, was one of the sponsors under Awaqi to help with the start-up launch pad that was featured at Addis Rupt.
When he first began his company, Nathan recalled that things were simpler then than they are now. However, he acknowledges that the challenges he faced were not nearly as challenging as those that young companies confront on their paths to success today.
"It's been five years since I launched my business, and for reasons I don't understand, it was relatively easy for me, but when I hear what people go through when beginning a business now, I often go back and can't recall going through the same things. Of course, there were some challenges along the way, but they are minor in comparison to what is happening now," he stated.
Addis Rupt's aim is to provide more opportunities for start-ups to network with one another, share experiences from which they may learn and grow, get new ideas, and find solutions to many of the challenges that start-ups face while they are first establishing their businesses.