"President for life" is the nickname given to Africa's autocratic presidents, who are always inventing new justifications or laws to extend their terms. In other instances, citizens of post-independence states had to wait almost 35 years to get the leader of their choice. As a consequence, coups have become frequent. Corruption has become commonplace, resulting in social instability and fractures.
The legacy left behind by despotic dictators often haunts nations for a long time. It is not a pleasant period that follows their demise. It is generally followed by anarchy and paves the path for another authoritarian leader to take their place. Sudan, for example, saw the military overthrow Omar al-Bashir, who had been in power for three decades.
However, as a result of the military government's interference in the democratic transition process throughout the transition era, the country is now embroiled in anarchy and bloodshed. It is teetering on the verge of an economic catastrophe and is languishing in international isolation in a manner comparable to that which was experienced during the three decades when tyrant Omar Al Bashir was in charge.
Libya's condition is far more dire. Many anticipated that the killing of Muammar Gaddafi, who controlled Libya with an iron grip for 42 years following a revolt against the monarchy in 1969, would usher in democracy or stability. Instead, Libya has splintered along regional and ideological lines, with militias battling for leadership of the oil-rich nation.
In the last decade, several long-serving politicians were removed from office, yet a few still hold sway.
The following five African presidents have held their respective offices the longest.
Teodoro Obiang Nguema
                43 years in power, never too old to be president
Teodoro Obiang Nguema Mbasogo, who was born on June 5, 1942, has held the position of President of Equatorial Guinea since 1979. Mbasongo went to the military academy in the Spanish city of Zaragoza. He took power through a military coup, which resulted in the ousting of the previous leader, Francisco Macas Nguema, who had been in power over the nation for 10 years. Opponents of Mbasogo claim that the nation has become the "North Korea of Africa" under his repressive and authoritarian rule.
He survived several coups, and two months ago, he was announced as the winner of an election in his country, securing almost 95 percent of the votes. Mbasogo's ambition for his son Teodoro Nguema Obiang Mangue to replace him is shown by the fact that he appointed him vice president.
Paul Biya
                 40 years and yet yearning for more    
President Paul Biya of Cameroon is the world's second-longest-serving leader, trailing only Teodoro Obiang Nguema Mbasogo. He served as Cameroon's prime minister and was elected president in 1982, when his predecessor, the country's first president after its independence from France, resigned for health concerns. He survived a coup attempt in 1984.
When the country's first multi-party election was ultimately conducted in 1992, Biya won by just four percentage points over his opposition rival. In recent years, Biya has faced obstacles ranging from a separatist movement in Cameroon's English-speaking regions to the danger presented by Islamic extremists affiliated with the Nigeria-based Boko Haram organization in the north.
Denis Sassou Nguesso
                        37 years of defiance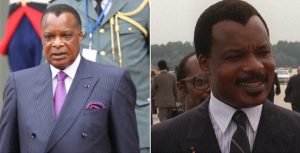 Denis Sassou Nguesso has been in office for 37 years, making him one of Africa's longest-serving presidents. During the elections that took place in March of 2021, he was granted his most recent seven-year term. The 77-year-old took the premiership position for the first time in 1979 and then again in 1997 after losing the country's first multiparty elections in 1992.
In 2015, he amended the constitution to remove term limits that would have prevented him from running for reelection the following year. Since 2014, when oil prices plummeted, Congo's economy has been in disaster. This resulted in the country's foreign debt, due mostly to private oil dealers such as Glencore, surpassing 100 percent of its gross domestic product.
Yoweri Museveni
                                    Rule for life
More than three-quarters of Ugandans are younger than 35, and they have only ever had one president. This is Yoweri Museveni, who has been the President of Uganda since 1986. The 76-year-old's reign has been marked by a lengthy era of peace and significant developmental advances, for which many are thankful. But he has kept his power by doing things like promoting a "personality cult," using patronage, putting pressure on independent institutions, and putting opponents out of the way.
Four years ago, a constitutional court in Uganda authorized an amendment that removes an age limit for the country's leader. This means that Museveni, who has already been in power for a long time, can stay in power for life. There was a constitutional age limit of 75 for the President of Uganda.
Isaias Afwerki
                       With no mercy, silence silences
Isaias Afwerki is the only president Eritreans have known since they gained independence. He has been in power since the country gained its independence in April 1993. So far, he has been in power for almost 30 years.
Isaias has never faced an election, and not only does he stifle dissent, but he also arrests anybody who opposes him for life without due process of law. His leadership was marked by economic isolation because of human rights violations, and he was accused of helping terrorist groups. Citizens are required to serve in the military for as long as they live, which drives young people to move to neighboring countries, often ending up in Europe or the US. He got into trouble recently due to Eritrea's involvement in the Tigray war. During that war, Eritrean troops committed many forms of atrocities against Tigrayans, such as rape and killing civilians, a fact validated by human right organizations, including the Ethiopian Human Rights Commission (EHRC).