By Fikir Gilitsi, Political Analyst
To die is a human nature, but not everyone chooses to die for their nation. It takes a whole lot of foreseeing, determination, dedication, and moreover, heroism to choose to sacrifice one's own life, or face pain and suffering for the sake of a nation and its survival.
One of the many similarities of the friendly countries of Republic of Azerbaijan and the Federal Democratic Republic of Ethiopia is that they both are blessed with brave sons and daughters throughout various chapters of their respective histories.
Following the dissolution of the Soviet Union, Armenian forces took over the town of Khojaly in the Upper Karabakh region of Azerbaijan on February 26, 1992, and committed one of the bloodiest atrocities by killing with special brutality 613 innocent civilians including 106 women, 63 children, and 70 elderly people in one night. 
In addition to that, several hundreds of people were heavily wounded during the attack. Furthermore, during the massacre, eight families were completely wiped out, while 130 children lost one parent and 25 children lost both parents, and 150 of the 1,275 Azerbaijanis who were captured by Armenians still remain missing. The fact that Armenia used heavy artillery and tanks, assisted by infantry during the attack showed that ethnic hatred and intolerance was an integral part of Armenia's policy. This caused an intense relation between the two former Soviet republics.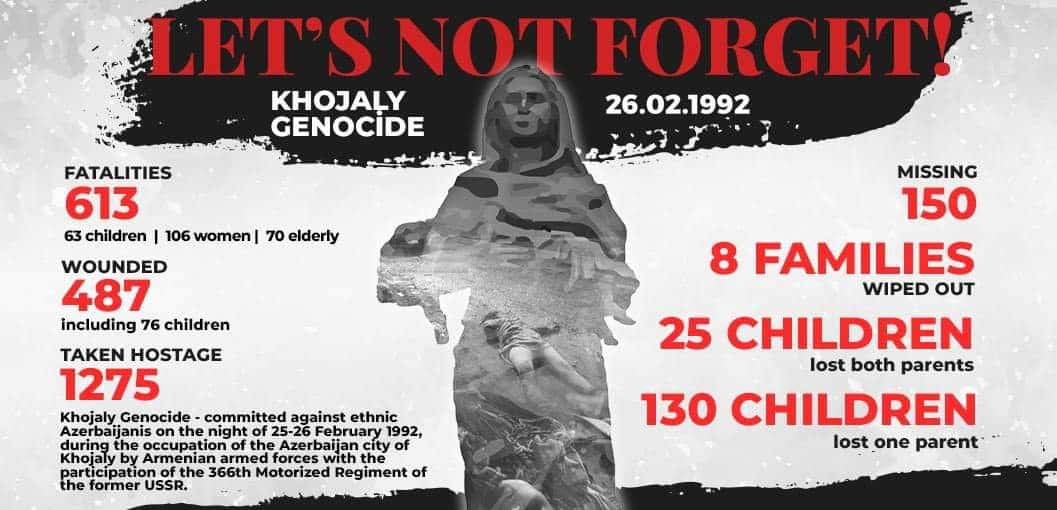 Armenia's military aggression over Karabakh and East Zangezur, territories internationally recognized as part of Azerbaijan which account about 20 percent of the nation's total area, since 1991 lasted for nearly three decades until the Azerbaijani heroic army chased away the aggressors and avenged the Khojaly Massacre with the 44-days Patriotic War in between September 27 and November 8, 2020. 
Azerbaijani Parliament recognized the massacre in Khojaly as genocide. Khojaly Massacre has also been recognized by international and regional organizations like Organization of Islamic Cooperation (OIC), and countries including Bosnia and Herzegovina, Colombia, the Czech Republic, Honduras, Jordan, Mexico, Pakistan, Panama, Peru, Sudan, Djibouti, Guatemala, Scotland, Indonesia and Afghanistan as well as twenty-four states of the United States of America.
Here we need to look into legal definition of genocide under international law.
The official investigation conducted in Azerbaijan found that the following elements of the crime of genocide, as defined under international law, particularly the Convention on the Prevention and Punishment of the Crime of Genocide, are present with regard to the attacks on civilians in Khojaly: the actus reus consisting of killing and causing serious bodily or mental harm; the existence of a protected group being targeted by the authors of criminal conduct; and the specific genocidal intent to annihilate, in whole or in part, a group distinguished on racial, ethnic, national or religious grounds. In its judgment of 22 April 2010, the European Court of Human Rights determined the massacre of the Azerbaijani civilian population of the Khojaly town to be "acts of particular gravity which may amount to war crimes or crimes against humanity".
The government of Armenia, together with its subordinating forces, as a state and individuals, including former presidents of Armenia Serzh Sargsyan and Robert Kocharian, along with other higher political and military officials are responsible for all the cruelty during the massacre.
Now Azerbaijan has single handedly managed to liberate its historical and rightful territories and kept its territorial integrity, thanks to heroic sons and daughters of Azerbaijan and the victorious leadership of Commander-in-Chief Ilham Aliyev.  Azerbaijanis at home and around the world commemorate Khojaly Massacre, with the feeling that the martyrdom hasn't now left in vein, in order to raise awareness about the tragedy and call on the international community to insist for recognition, dialogue and ultimate reconciliation.  
Given that Azerbaijan and Armenia are neighboring countries and can truly play a vital role for regional peace and prosperity, recognition of what happened sends an essential political message that justice will be served whatsoever and howsoever and in no way can impunity prevail. By so doing, it will be possible to contribute to achieving peace and reconciliation in the region and prevents repetition of such crimes. By so doing, it will be possible to facilitate direct dialogue between Azerbaijan and Armenia so as to overcome all the bad memories of the conflict, paving the path to jointly find ways for reconciliation and sustainable peace and prosperity for the Caucasus region.
But until then, and even after, what happened on February 26 will never be forgotten. Dear sons and daughters of Azerbaijan who sacrificed their lives for their nation on this day, although avenged very well, will always be remembered and live in the hearts and minds of every Azerbaijani and forever.